I've been doing a horrible job posting on my blog, so I thought I'd share my audiobook journey, which has been my preferred format for new to me authors. My reading this year has been pretty average and I'm sure it's due to a mixture of things going on in my personal life. But I'm just taking it all one thing at a time. I know prefer to keep things in a positive space when it comes to their posts, but if my not so favorable (written critically) reviews gives someone else a reason to pick it up. I call that a win, so here we go!
---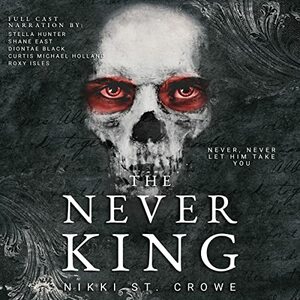 The Never King by Nikki St. Crowe
3.5 STARS
STORYGRAPH | READ THROUGH SCRIBD
It has been a while since I've read a why choose, but I've been wanting to check this series out for a while. I bought the audio a while ago, so here we go.
I went in with zero expectations and I'm definitely interested to see what happens. Being the romance lover that I am, I couldn't really feel much of it coming through between any of them.
Honestly, I have zero idea where this story is going, but I will continue the series to see how everything pans out.
The narration was pretty solid, the narrator for Bash wasn't quite my favorite. But overall, liked who they chose to narrate everyone.
---
The Alien's Prize by Zoey Draven
3.75 STARS
STORYGRAPH | AUDIBLE USED CREDIT
I had an extra audible credit and I've been wanting to try Zoey's Warriors of Luxiria series. But I think her Horde Kings of Dakkar reign as my top favorites. This one was an okay read for me, but I'll definitely continue this series because I'm quite intrigued with this story. And I'm hoping that things will pick up a little bit more.
Narration: Sierra Grace and Tristan Josiah were new to me narrators and I loved what they did for these characters. I was able to listen to this in one sitting and they definitely elevated the reading experience for me!
---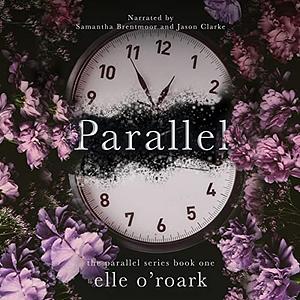 Parallel by Elle O'Roark
3.5 STARS
STORYGRAPH | AMAZON GIFTED COPY
Ooof, okay, this is why I rarely pick up time travel books, but I've been wanting to try this out for a while. I got the chance to listen to the audio and off we went.
What a ride! I wasn't really connecting with the romance part. As much as I wanted to be invested in the present situation between Quinn and Nick, I couldn't quite get past what they were doing while being in separate relationships. So that took up a lot of my mind space as I was reading.
The time travel element was intriguing and confusing, which I feel is such a norm. I had soooo many questions about some mysterious characters that no doubt will be answered in the next book. Things really did pick up at the end of the book.
Quite a bit of angst in this one especially between Quinn and Nick, they have quite a history that slowly unravel. But there are a lot of missing pieces before we get the complete picture.
I look forward to reading Intersect and hopefully getting all of my questions asked.
Narration: I'm no stranger to Samantha Brentmoor and Jason Clarke, they did great jobs (as usual) with bringing these characters to life. They were great choices for Quinn and Nick in Parallel.
---
I think I'll be making this a series of sorts, also to mainly push myself to post more.
Have you read any of these or will you pick it up?
---
This post contains affiliate links to different retailers, items purchased through links on will provide a small commission, which is all used towards feeding my love for books.